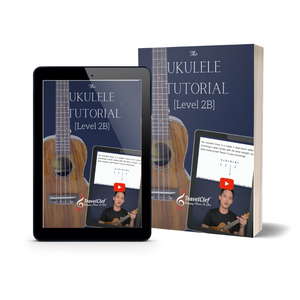 Ukulele Tutorial 2B
Learn the basics of plucking and melody-playing on the Ukulele!
A continuation of our Ukulele Foundation Tutorial & Ukulele Tutorial 2A, our Ukulele 2B tutorial will teach you more new techniques!
What you will learn in our Ukulele Tutorial 2B:
1. The basics of finger plucking
2. 2 plucking techniques that can be applied to any song
3. Learn how to make the ukulele sing by learning how to play tabs
4. Reading the Ukulele Tabs
5. Playing to songs using Ukulele Tabs.

Watch a preview of what you'll learn:
Why you should get this tutorial:
Some people think that the ukulele is meant only for basic strumming and singing.
But what they do not know is this beautiful instrument sounds amazing when the strings are plucked individually.  
In this tutorial, we teach you the basics of plucking and melody-playing.
If you want to explore more playing techniques on the ukulele, you should get both our Ukulele Tutorials  2A and 2B!
The video tutorial is not a physical product. Upon purchase, you will receive an email with the video details.
All video tutorials purchased are strictly non-refundable.
**If you happen to also like piano, our flexi piano starter kit is on offer now!
-> Find out about flexi-piano offer here
---
We Also Recommend