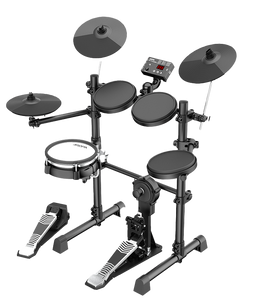 Aroma TDX-15S Electronic Drum Set
**This is a pre-order. Estimated delivery will take around 2-3 weeks. 
The Aroma TDX-15S Kit consists of three tom pads, dual-zone snare pad, an upright kick drum pad, bass drum pedal, hi-hat, hi-hat pedal, crash and ride cymbal pads 12 programmable kits made up of high-quality drum, cymbal, and percussion sounds
Dual-zone snare pad - capable of rimshots.
Class compliant USB MIDI output for connecting to your favourite software. Aux input to play songs from your music sources.
The Aroma TDX-15S Kit offers great connectivity with the ability to hook up an MP3 or CD player. There are also headphone and amplifiers outputs so you can play in silence or the total opposite.

Enjoy Playing
Connect TDX-15 or TDX-15S electronic drum kit to drum amp ADX-40. Adjust sound level and choose different sound patterns. Play quietly with headphone connects. Enjoy playing alone and not disturb others.

Simplified Control Panel Design
TDX-15 or TDX-15S host machine control panel is designed to make everything simple, with only one volume knob, two drum sound switch buttons, and one metronome button.

Metronome Inside
TDX-15 or TDX-15S with a click function, tempo adjustable.

Easy Assembly
Only 8 steps to assemble TDX-15 or TDX-15S electronic drum kit. Please follow attached ASSEMBLY DIRECTORY to assemble your drum kit.

Note: **TDX-15S snare is mesh head and bass is with additional bass drum pad

Specifications:

Standard 5 drums+3 cymbals
8 inch mesh snare drum and silicone tom drum
10 inch silicone crash and ride cymbals with double triggers
Silicone hi hat
Silicone bass drum.
12 preset drum sounds,
144 sounds total,
Metronome inside.
9V power
Sound output:

Earphones output
USB MIDI
AUX in
*Installation fee is not included.
---
We Also Recommend