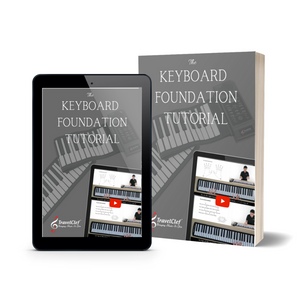 Keyboard Foundation Tutorial
Always wanted to play keyboard but don't know how?
This video tutorial is perfect for you!
You will learn how to play and sing on the keyboard in just 45 minutes, even if you have zero music background!
If you do not have a keyboard at home, then our Flexi-Piano Starter Kit (which comes with this foundation tutorial) is perfect for you.
Watch a preview of our Keyboard Foundation Tutorial:
What you will learn in our Keyboard Foundation Tutorial:
1. Understanding the basics of the keyboard
2. The 4 chords that will allows you to play more than 70 over pop songs!
3. Play using both hands, using our special 1-finger chord jamming technique.
4. How to play and sing using the chords with teach you, to songs like You Are My Sunshine and Happy Birthday

Why you should get this tutorial:
Most piano lessons start with teaching beginners how to read musical notes...
But for a start, it is difficult for most and may cause them to lose interest or give up. 
We've found a unique way to teach new learners how to play piano easily, even if they have zero music experience!
This video course contains our proven method and you will find out why you don't need to learn how to read music notes first. 
In fact, you'll find out how you just need to learn 1 simple shape and be able to play many chords and songs!
Thousands of people have went through our proven syllabus in our music school.
Now, we've recorded our proven method and we're bringing it right to you where you can watch and learn at home! 
Don't just hear from us..
Here's a video of Jim, who attended all 5 levels of our Keyboard Beginner Workshop, playing a song during his graduation performance:
In case you want to watch more, here's a video of Belinda singing along to her favourite song, using what she learnt in our keyboard course:
Bear in mind, like many of our students, Jim and Belinda had zero music background.
But through our syllabus and their hard work, they finally achieved their lifelong dreams of playing the piano!
Check out what our other keyboard students say:
The video tutorial is not a physical product. Upon purchase, you will receive an email with the video details.
All video tutorials purchased are strictly non-refundable.


Serious about learning piano?
If you are a beginner and want to learn piano step-by-step using a proven method, you should check out our Complete Online Keyboard Course.
It is designed in a progressive and easy-to-follow method where we take beginners with little or no music background to a level where they play and sing on the keyboard in just a matter of hours.
---
We Also Recommend